By Emily Young, Public Health Educator
Although often thought of as just one disease, there are many types of breast cancer. A woman's treatment options and prognosis are dependent upon the type of breast cancer that's diagnosed. In order to determine this, all tumors are tested for estrogen, progesterone, and HER2 receptors. Breast tumors that have estrogen and/or progesterone receptors can be treated with hormone therapy. Anti-HER2 targeted therapies are used to treat tumors that are positive for HER2 receptors.
In the U.S., about 15-20% of breast cancers are classified as being triple negative. This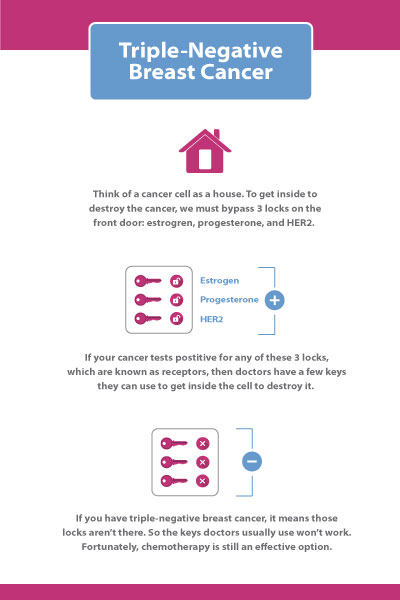 means that the breast tumor has very few or no receptors at all for estrogen, progesterone, and HER2. Triple Negative Breast Cancer (TNBC) has a tendency to be more aggressive than other breast cancer types and is more likely to have an earlier recurrence that usually spreads to other parts of the body. TNBC seems to occur more in younger women, African-American women, and women who have the BRCA1 gene mutation.
Breast cancer may not cause any symptoms in its early stages. With early detection breast cancer is usually easier to treat and often has better outcomes. A mammogram is the best test to find breast cancer early, sometimes up to three years before it can be felt a doctor during a clinical breast exam. Screening guidelines recommend that women between the ages of 50 and 74 have a mammogram every two years. Women between the ages of 40 and 49 should check with their healthcare provider to see if a mammogram is recommended for them.
Free mammograms are available through the Onondaga County Cancer Services Program (CSP) for women between the ages of 40 and 64 who do not have health insurance or experience other barriers to completing their screenings.  Services are available at many healthcare provider sites throughout the city of Syracuse and Onondaga County. Call 315-435-3653 or visit the CSP website at ongov.net/health/cancerscreening.html to register for your free mammogram.
Learn more about breast cancer and current federal screening guidelines at: https://www.cdc.gov/cancer/breast/basic_info/risk_factors.htm
https://www.uspreventiveservicestaskforce.org/Page/Document/UpdateSummaryFinal/breast-cancer-screening1?ds=1&s=breast%20cancer