Onondaga County Health Department Advises Residents to Take Precautions Against Extreme Heat and Humidity
ONONDAGA COUNTY, JULY 6, 2023 – A heat advisory for Central New York has been issued from 11:00 am to 8:00 pm today, Thursday, July 6 with expected heat index values of up to 98 degrees. Onondaga County Health Commissioner Dr. Kathryn Anderson advises residents to take precautions against the extreme heat and humidity that is expected today in Onondaga County.
It is important to take steps to stay cool during hot and humid weather. For those who are at an increased risk for heat-related illness such as the elderly, small children, overweight individuals, those with chronic health problems or who take certain medications, extreme heat conditions can be dangerous or even deadly.
To stay healthy during hot weather it is important to follow these safety tips:
Drink water regularly, even if you're not feeling thirsty. Avoid or limit intake of alcoholic or very sugary beverages.
Stay in an air-conditioned indoor location. If your home is not air-conditioned, visit public places such as senior centers, libraries, and malls. A listing is available here.
Keep curtains and window shades closed.
Take cool showers or baths to cool down.
Dress in lightweight, loose-fitting clothing.
Schedule outdoor activities carefully and pace yourself.
Protect face and head from the sun by wearing a wide-brimmed hat.
Check in on your family, friends, and neighbors often.
NEVER leave children, disabled individuals, or pets in cars.
Know the signs of heat exhaustion (excessive sweating, dizziness, fatigue, nausea) and heatstroke (hot, red skin, rapid pulse, confusion). If you or someone around you shows these symptoms, move to a cool or shaded location and seek medical attention immediately by calling 911.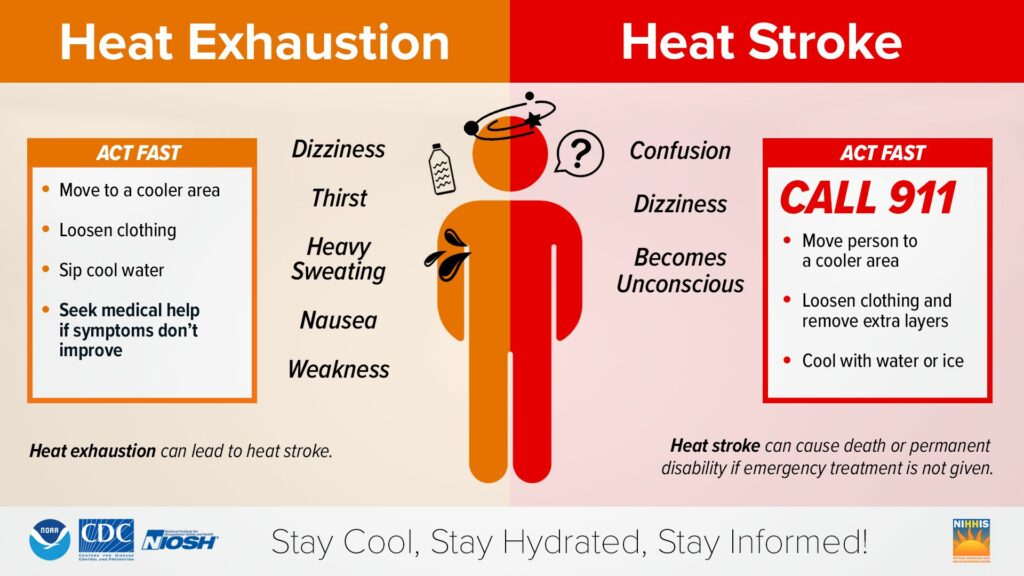 Stay informed by monitoring local weather updates and heat index forecasts from the  National Weather Service. Older adults needing information on Senior Cooling Centers may contact the Onondaga County Office for Aging at 315.435.2362.
For more information about heat-related illness and prevention tips call the Onondaga County Health Department at 315.435.3280 or visit ongov.net/health/heat.html or emergency.cdc.gov/disasters/extremeheat/faq.asp.