By  Indu Gupta, MD, MPH, Commissioner of Health

To kick off 2017, I would like to make you aware of a new and important document that is now available. A community health assessment (CHA), also known as community health needs assessment (CHNA), is performed on a regular basis to identify key health indicators in a community through a collaborative, systematic, and comprehensive data collection and analysis process. The indicators for interventions are selected after active input from the community.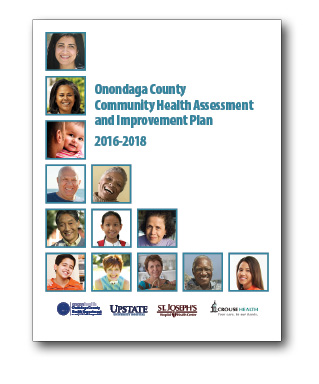 The Onondaga County Health Department (OCHD) worked with Crouse Health, St. Joseph's Hospital Health Center, and Upstate University Hospital in this comprehensive process throughout 2016. We also worked with several community-based organizations.  The yearlong effort has resulted in shared ownership of community health improvement, including assessment, planning, investment, implementation, and evaluation. Various strategies are aimed to address disparities among subpopulations, while improving community engagement and accountability. We also placed a strong emphasis on evidence-based interventions, while encouraging innovative practices with thorough evaluation and continuous improvement.
A community health improvement plan (CHIP) is a long-term, systematic process to address the identified public health problems in a community, following a thorough assessment (CHA).
Based on Onondaga County's CHA, two priority areas were selected by OCHD and the partner hospitals to address during the 2016-2018 cycle:
Promote mental health and prevent substance abuse. We will give special attention to the ongoing opioid epidemic and its relationship with mental health.
Prevent chronic disease: This will focus on improving nutrition and physical activity by changing the environment.
To fully engage the community in this effort, a survey on health issues was created and distributed. The survey was completed by almost 3,000 individuals, and provides an eye-opening perspective into the true voice of our community. Review the summary of the results.
The full CHA / CHIP is an easy read and will be helpful to anyone. For example, identifying racial and geographic disparities in the rate of emergency room visits and hospitalizations in the diabetic population can help support the need for resource allocation to improve care.
Together we will make our community a better place for everyone! Please join our hands in achieving this in 2017!
Happy New Year!
Visit our website and Facebook!