New York State has taken huge steps forward in the past year to help New Yorkers live free from nicotine addiction. However, the use of flavors in tobacco products still has a harmful impact on health. One flavor in particular, menthol, makes it easier to start and harder to quit.[1] Tobacco-Free CNY, a program that serves Onondaga, Cayuga, and Oswego counties, is bringing awareness to the problem of tobacco industry marketing of menthol tobacco products on Seen Enough Tobacco Day, October 13, 2020.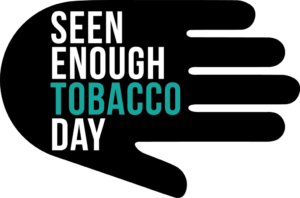 In tobacco products, menthol provides a minty flavor and cooling effect in the mouth and throat. This triggers the tobacco user to take deeper and longer breaths in, increasing the risk of addiction.1 The tobacco industry exploits menthol's cooling taste and sensation to addict youth and new smokers.[2] More than half (54%) of youth 12-17 years of age who smoke use menthol cigarettes.1 Among African American youth who smoke, this increases to 7 out of 10.1
For decades, the tobacco industry has targeted young people and African Americans at a higher rate than other age and racial groups. Various marketing strategies have been used by the tobacco industry to make tobacco use look normal, cool, and popular. They have also heavily marketed in communities, in magazines, and at music and lifestyle events aimed at African Americans.1
It's our turn to tell the tobacco industry that our kids have seen enough by pledging your support here.
Tobacco-Free CNY, a program implemented by Onondaga County Health Department, and the Reality Check student youth groups, are part of the NYS Tobacco Control Program. These efforts are leading the way toward a tobacco-free society. For more information, visit www.tobaccofreecny.org.
[1] Office on Smoking and Health, National Center for Chronic Disease Prevention and Health Promotion; https://www.cdc.gov/tobacco/basic_information/tobacco_industry/menthol-cigarettes/index.html#6
[2] Kreslake JM, Wayne GF, Alpert HR, Koh HK, Connolly GN. Tobacco industry control of menthol in cigarettes and targeting of adolescents and young adults. Am J Public Health. 2008;98(9):1685–1692. doi:10.2105/AJPH.2007.125542