By Emily Young, Public Health Educator
For many years, the Cancer Services Program (CSP) has collaborated with the Onondaga Nation to screen local Native American women for breast cancer. This partnership has grown and evolved in many ways over the years. It is true that breast cancer rates do tend to be lower in American Indian/Alaska Native women when compared to other ethnic groups, but mammography screening rates among these women are also somewhat lower than rates among other non-Hispanic groups of women, including white, black, and Asian.
When the CSP first began working with the Onondaga Nation, we had access to a mobile mammography unit. The unit was transported directly to the Onondaga Nation Health Clinic and set up inside of the building, which allowed women access to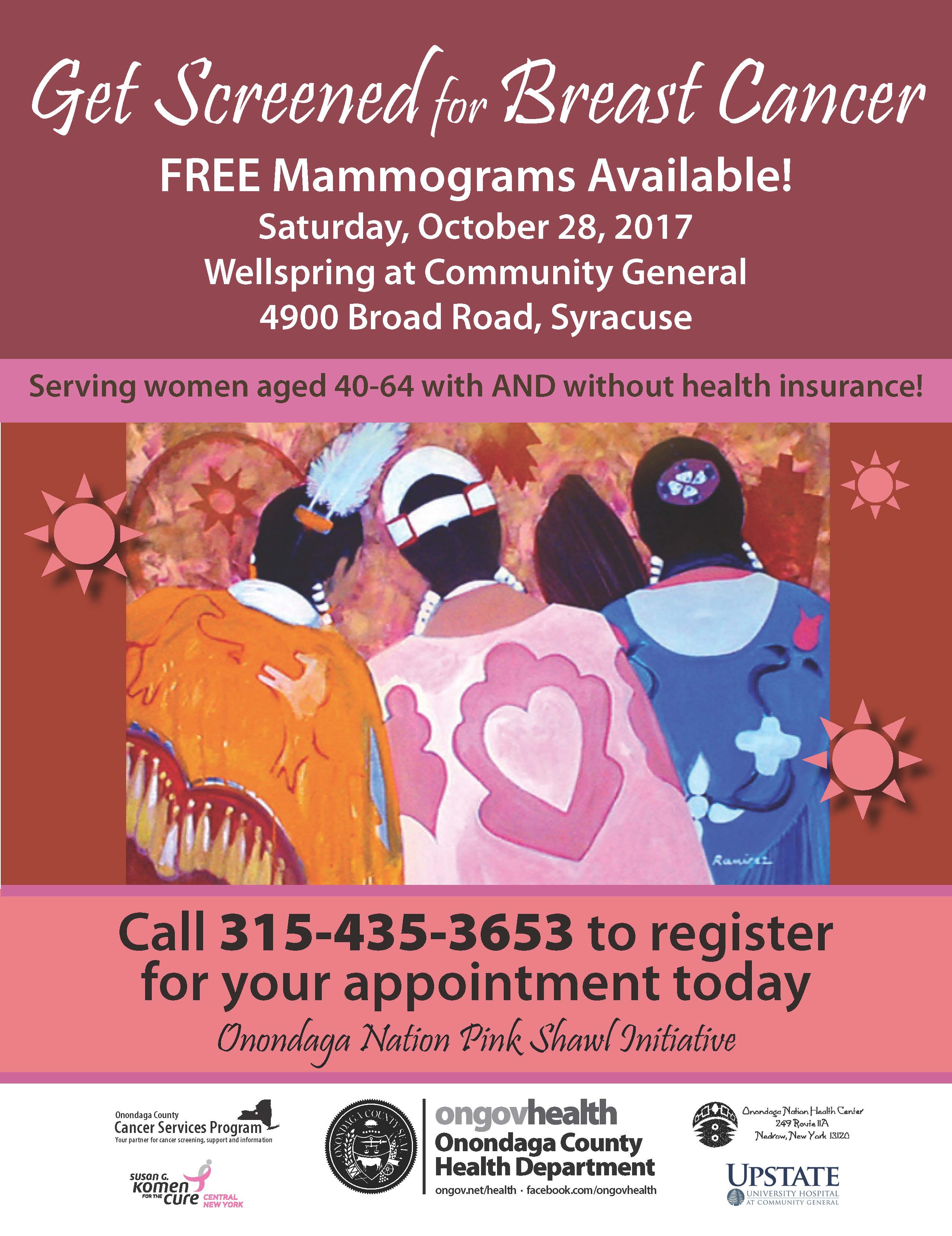 their mammograms at a location that was both convenient and familiar to them. Due to various factors, the use of the mobile mammography unit was eventually discontinued. As a result, the number of Native American women in Onondaga County who received breast cancer screenings through this program dropped dramatically over the next several years. These women no longer had a familiar and convenient location to have their mammograms and the sense of community that the mobile mammography program had offered to them was unique and difficult to replace.
Recognizing this, the CSP initiated contact with the Onondaga Nation's clan mothers to discuss strategies to increase breast cancer screening rates among their Native women. Out of these discussions the "Onondaga Nation Pink Shawl Initiative" was created. This initiative is a collaborative effort between the CSP, the Onondaga Nation, and Wellspring Breast Care Center at Upstate University Hospital-Community Campus. It encompasses both education and the provision of breast cancer screening services to women of the Onondaga Nation. Promotional materials were designed with culturally appropriate artwork that was obtained from a well-known Native American artist. Now this artwork is easily identifiable among women within the Onondaga Nation community and has been extremely successful at bringing awareness to the availability of this mammogram program.
Through the "Pink Shawl Initiative", three to four mammogram clinics are scheduled at Wellspring Breast Care Center each year. The clinics, held on Saturday mornings, are open only to Native American women.  We encourage women to schedule their mammogram appointments around the same time as other family members and friends who also need their mammograms so they can come together. This practice promotes a sense of community which is a very important part of the Native American culture. So far in 2017, approximately 60 Native American women have been screened for breast cancer through the "Onondaga Nation Pink Shawl Initiative". The CSP looks forward to continued collaboration with our partners to provide these breast cancer screening clinics for our community's Native American women.
Learn more about breast cancer and current federal screening guidelines at: https://www.cdc.gov/cancer/breast/basic_info/risk_factors.htm
https://www.uspreventiveservicestaskforce.org/Page/Document/UpdateSummaryFinal/breast-cancer-screening1?ds=1&s=breast%20cancer