Protecting the Environment is Just One More Reason To Quit
SYRACUSE, NY: The Tobacco-Free CNY program partnered with the Reality Check youth program to celebrate World No Tobacco Day on May 31st. This year, the World No Tobacco Day global campaign highlights tobacco's threat to the environment and aims to educate the public about the environmental impacts of tobacco, including the toxic waste it leaves behind. In honor of this campaign, Reality Check youth leaders from the Institute of Technology at Syracuse Center (ITC) gathered in nearby Roesler Park for a cigarette butt cleanup event.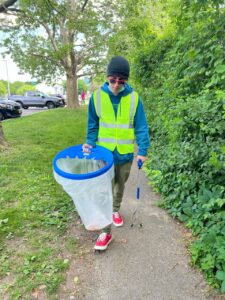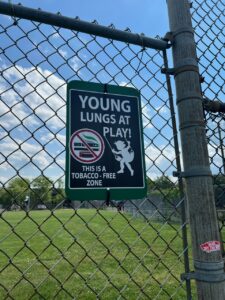 Reality Check youth leader Ali Kareem states, "We were able to beautify our community during our World No Tobacco Day event by cleaning up hundreds of cigarette butts from the park. This cleanup event gives us the opportunity to educate our peers and community members about the environmental dangers of tobacco litter."
Cigarette butts are the most frequently littered item in the world. Roughly 4.5 trillion cigarette butts are littered worldwide each year, resulting in 1.69 billion pounds of tobacco waste. Rachael Russell, Public Health Educator for Tobacco-Free CNY states, "Cigarette butts may look like they are made of paper and cotton, but they are actually made of plastic fibers. These plastic fibers are not biodegradable and can take at least ten years to break down." Russell continued "Cigarette butts contaminate water and soil with hazardous chemicals such as arsenic, lead, and nicotine. These chemicals are toxic to humans, pets, and wildlife."
Within an hour of contact with water, cigarette butts begin leaching toxic chemicals into the marine environment, poisoning fish and other aquatic wildlife. Cigarette butts have also been found in the stomachs of fish, whales, birds, and other animals, leading to ingestion of hazardous chemicals and digestive blockages. Policy change has proven to be an effective tool to reduce tobacco litter and prevent these environmental hazards.
Tobacco is the leading cause of preventable disease, disability, and death in the US. World No Tobacco Day provides an opportunity for municipalities, employers, and property managers to reevaluate and strengthen their current tobacco policies. The Tobacco-Free CNY program, serving Onondaga, Oswego, and Cayuga Counties, assists community partners with the creation and implementation of tobacco-free policies. Tobacco-Free CNY works to create tobacco-free environments for Central New York residents to live, work, and play. Reality Check is a youth program that works to educate and engage local stakeholders, community leaders, and the public to strengthen tobacco and e-cigarette policies that prevent and reduce tobacco and vape use among youth.
For more information about the Reality Check and Tobacco-Free CNY programs, please visit our website at tobaccofreecny.org or call (315) 435-3280. For help with quitting, please call the New York State Quitline at 1-866-697-8487 or visit nysmokefree.com for more information.