Ali Kareem honored for his commitment to the fight against Big Tobacco
Onondaga County Executive Ryan McMahon, joined by Health Commissioner Dr. Indu Gupta and Tobacco-Free CNY Coordinator Karyn Johnson, recognized Ali Kareem, a student at the Institute of Technology at Syracuse Central who was honored with the 2021 New York State Central New York Reality Check Youth Ambassador of the Year Award. Reality Check, an initiative of Tobacco-Free CNY, is a statewide youth-led movement aimed at creating the first tobacco-free generation.
Onondaga County Executive Ryan McMahon said, "We are so pleased to honor Ali Kareem's dedication to the health of our community, especially his generation, who will become the leaders of tomorrow." McMahon continued, "Congratulations to Ali, and thank you for your commitment to making Onondaga County and Central New York a healthier place to live, work, and play."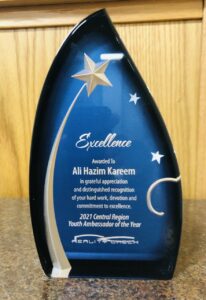 Health Commissioner Indu Gupta said, "This award honors the outstanding work of young leaders in countering the tobacco industry's deceptive and manipulative marketing tactics in communities across New York State. We are proud of Ali and his efforts to foster environments supportive of tobacco-free norms through public education efforts, mobilizing their peers, and educational outreach to decision-makers."
Kareem's accomplishments include planning and carrying out activities and events in the Central New York region to raise awareness about the negative impact of tobacco and what youth, other community members, and elected leaders can do to help prevent youth initiation of tobacco use. As part of these activities, he has traveled to Albany to meet with state legislators to raise awareness of the manipulative and deceptive marketing practices of the tobacco industry and what can be done to fight against this. Kareem has been particularly passionate about educating his peers and community about tobacco marketing in movies and marketing targeting youth at the point of sale in his community.
Karyn Johnson, Program Coordinator for the Tobacco-Free CNY program, said, "Ali is an outstanding young leader who continues to make a difference in his school and within his community." Johnson continued, "He has shown tremendous dedication and commitment to Reality Check, even attending weekly virtual meetings and participating in virtual activities and events since the start of the pandemic.  His work to make his community a healthier place to live has been an inspiration to his peers."
Reality Check of New York is a youth-led movement in New York State that empowers youth to become leaders in their communities in exposing what they see as the manipulative and deceptive marketing tactics of the tobacco industry. The organization's members produce change in their communities through grassroots mobilization and education. Visit realitycheckofny.com for more information.